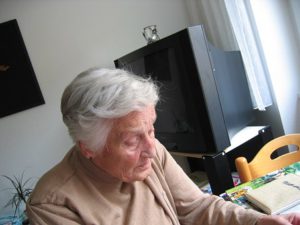 While working as a Medical Examiner Investigator, I investigated many death scenes of seniors with health issues. Many of them resided alone at home and had minimum contact with their families or relatives.

However, I often wondered if their life could've been saved by having a Medical Alert System attached to their neck (pendant) or wrist.  Especially, with all the baby boomers retiring. They should be able to summon emergency medical help with the push of a button.
Because I know from experience that elderly adults sometimes die inside their bathrooms.  And it's simple to understand because the bathroom is the room we visit the most as we get older and thousand's of cardiac events occur sitting on the toilet.
Medical Alert Systems
Monthly, I receive the AARP magazine and it usually contains articles referencing wireless mobile alert systems for seniors.  But it doesn't say what is the best medical alert system for 2019.
These medical alert devices are very significant when you have children who reside out of state and can't physically check on their older parents and grandparents.
That being the case, I decided to list the comparisons and prices in one article to simplify the choices that are available at very reasonable prices.
After all, you can't put a price on caring for your elderly parents who paid for your extracurricular activities and college, prior to you becoming an adult.
So let's ensure they have immediate medical help when needed 24-hours a day and 7-days a week.
With that being said, I have highlighted the best medical alert systems of 2019.
What is Medical Alert Systems
These are medical alert companies that provide a way for seniors to get immediate help during a medical emergency that requires medical assistance or medical personnel. They offer devices such as pendants, wristbands, and in-home portable devices that are monitored by certified medical operators.
Many of them have different features and advanced features that may or may not cost extra money. And this is very important in our retirement years because no one wants to pay for extra services that they don't need.
However, you still want the very best device and service at a reasonable monthly payment. So I did some research, as I often use to do in investigations, and found the best medical alert options for elderly adults in their retirement years.
Upon conducting this research, I found that some of the companies actually give you the device for free and you just have to pay the monthly monitoring fee.
How great is that? It's huge, right!
Most of the companies are similar. They all notify emergency medical personnel when you require immediate medical attention. And most of the devices will work at home or on the go.
Of course, if you want your medical alert device to work in both situations then the monthly payments will be slightly higher. And if you want your device to work only when at home, then the monthly payments will be lower. So you get to choose the device that better fits your needs or the needs of your parents for future emergency situations.
How Does It Work
Most of the mobile alert systems are equipped with GPS tracking software even when you're at home or away. So if you're working outside in your garden these devices will still locate your current location.  Of course, provided you have cellular towers nearby.
These devices and companies provide real-time monitoring services and location tracking for emergencies. When you have an emergency, simply press the button on your pendant around your neck or portable device and that information and location will be sent to the mobile help emergency operators. These companies will provide monitoring and notification services for you (24) hours per day and (7) days a week.
Once contact is made the operator will establish communication with you and assess the situation. Then the operator will contact an ambulance, family member, neighbor or whoever is listed as the emergency contacts in your files.
Also, you want to ensure the company is accredited, have quality ratings and have certified monitoring operators.
In most instances, the companies may loan you the equipment and allow you to download it to your smartphone or purchase it through a retail or online store.  Just remember if you are using a smartphone app, you must be within the range of a cellular network.
Payments and Return Policy
With most companies, you will be required to sign a multi-year contract for the term of services. However, I did find top-rated companies that don't require a long term contract.  Most company's policies stated you can cancel the services at any time by calling their toll free numbers. But if you do cancel, be sure to return all of the systems equipment and accessories as soon as possible. Because this will be at your expense until the company receives the equipment to prorate your bill. Remember, always thoroughly read your contract and have a relative read the contract with you to understand the payments and return policies.
False Alarms
I know from being a Medical Examiner Forensic Investigator and working in the field of Law Enforcement for over (25) years that false alarms will occur and can happen at different times of the day and night. Such as getting up in the middle of the night tripping over something on the floor and accidentally pushing the button on your pendant.
When this occurs, the operators will contact you first to get an assessment of the situation before having emergency medical personnel respond to your location. Because you shouldn't want to pay an ambulance bill when it was due to an accidental alarm.
Types Of Medical Alert Devices
There are several to choose from and this is going be totally up to you. You may want a portable device such as a pendant to place around your neck or wrist or a stationary device in a particular place in your home (i.e. shower). But before deciding on a stationary device, remember, if you fall in the hallway a portable device sitting on the kitchen counter may not do you any good if you're not within the specified range.
And yes, they do offer fall detection devices but it's not 100% reliable compared to physically pushing a button.  Therefore, I recommend any of the portable devices because it will always be with you within the home and outside in the garden.
Medical Guardian
According to the most recent information, this company is ranked the #1 rated medical alert system in the nation. But why? And what makes them the best medical alert company?
Well, they offer a Classic Guardian device for an in-home landline with up 1,300 feet from the main base.  Next, is the Home Guardian with no landline required (wireless). The Home Guardian device is equipped with time, temperature display and Fall Detection capabilities.
In addition, this company offers 2-types of on-the-go devices. The first is the Mobile Guardian that is GPS-enabled and can be used at home or on the go. The second is the Active Guardian that can be used inside and outside with an all-in-one medical alert system with GPS, WiFi, and optional Fall Detection capabilities. Below is a list of great features such as:
Free

equipment
Free activation
Free shipping
Free Lock Box and Extra Button (for annual subscriptions and new customers)
Monthly service is $29.95-$49.95
1 month free
No long term contracts required
Lifetime warranty
Range from base Station is 1300 feet
Fall Detection (Optional add-on)
CSAA Five Diamond certified monitoring centers (open 24 hrs/7 days a week)
Bilingual support
Medical Alert services to Canada
BBB accredited
Contact: 855-283-1029
Website: medicalguardian.com
Rating score 9.5
The pros are that you may cancel Medical Guardian services at any time without penalties, no long term contracts, low monthly payments, and free equipment. Also, if you purchase a second pendant for your spouse the company will monitor this medical alert device for free.
Another thing about this company that was impressive was the is 9000+ reviews.  Many of the reviews were positive about the services and customer support personnel.
LifeStation
This company has been in business for 42 years and helps seniors live an independent lifestyle. The in-home landline is $19.95 per month and the in-home cellular is $26.95 per month and the Mobile with GPS is $34.95 per month.
No long term contracts
Works with Amazon Alexa
30-day money-back guarantee
Free equipment
Free Activation
Waterproof alert button
Five- day battery for mobile system
Free Spousal Monitoring
$3.99 per month for 2nd help button
1000 foot range from the base station
System warranty
Monthly service is $19.95-$34.95
Multiple Plan Options
Website: www.lifestation.com
5 Diamond certified medical monitoring center
BBB accredited
Rating score 8.4
The pros of this company are low monthly payments, multiple plans, free equipment, no long term contracts, works with Amazon Alexa and had over 2000 reviews.
The con is the second help button is not monitored for free.  There is an extra $3.99 per month to do so.
Lively Mobile
This mobile alert system advertises as having the fastest call response and most reliable coverage. But so does some of the other alert systems. But it does have some features that are very beneficial to you during a medical emergency and it's easy on the wallet.
Small waterproof design and easy to carry (up to 3ft)
Wireless (no landline needed)
Long-lasting battery life
May offer 20% off monthly services
May offer first month free when purchased at Best Buy, Rite Aid or Walmart
Monthly service is $24.99
Fall detection option
Amplified 2-way voice communication
Contact: 1-800-650-6629
Website: www.greatcall.com
As you can see this device has several pros, but there is one con that stood out.  It states that the fall detection option feature may not always be accurate. But it is available for an extra price. But if you or your elderly parents are having issues with staying steady on their feet, then it is important to have this fall detection feature even if it's not reliable 100% of the time. Again, remember these are your parents and you must take reasonable steps to care for them.
Mobile Help
This mobile alert device extends beyond the home. You can continue to take walks, go shopping and travel with this small device.
Wireless
Free equipment to use
Free shipping
Free lockbox
FDA registered company
Fall Detection Option
One time $49.95 activation fee
From $19.95
BBB accredited
Contact: 1-800-920-9414
Website: www.MobileHelp.com
Rating Score 9.4
This device has several pros that stand out from the competition. It's free and the shipping is also free. The monthly service can be as low as $19.95 depending on the plan and terms of service.
The con is paying an activation fee of $49.95. Typically, when many of the other companies are charging nothing for activation.
Medical Alert

This company is the nation's largest independent provider of emergency response systems. They will notify medical, fire or the police in the event of an emergency. However, this is home landline systems only.
Free Activation
Free equipment
Fall Detection feature (optional additional fees)
Requires an annual rate plan
Waterproof pendant or wristband for the shower
BBC accredited (Better Business Bureau)
Consumers Affairs Accredited
From $19.99 monthly
Contact: 1-877-276-1640
Website: www.MedicalAlert.com
Rating score 7.4
The pros of this company are no activation fee and free equipment and offer two gifts. These free items are a locking key box and a 2nd emergency medical button. However, the con is you are required to sign up for an annual rate plan.
This could become problematic only if you need to cancel before the twelve months. Therefore, the company may charge you an early cancellation fee and require you to pay for the remaining contract months. If you choose this company, do your due diligence and check your contract thoroughly.
Life Alert
This company is probably the most familiar with the famous commercial tagline, " Help! I've fallen and I can't get up". This commercial repeatedly played on our televisions during the daytime and nighttime hours for a very long time.
Lightweight device
Waterproof device for the shower
Shower help button
Wireless for at home or on the go
Home invasion emergencies
Fall detection feature (optional)
Free use of equipment
Free shipping
Batteries last up to (10) years
BBB accredited
Consumer Affairs Accredited
CSAA Accredited (Central Station Alarm Association)
Full refund guarantee
Contact: 1-800-456-0859
Website: www.lifealert.com
Monthly price: from $49.95 to $89.95
Requires a (3) year contract
Rating score 2.1
According to Life Alert's website, it claims to saves a life every 11 minutes. It has many good benefits such as free use of equipment with a subscription, a shower help button, and the battery lasts up to (10) years. It also has a back battery that lasts up to (72) hours for the signature main unit. The pendant has a range of 800 feet and can be worn as a necklace or wristband. And you can even summon the police during a home invasion or the fire department during a fire.
Even though this medical alert system is very popular there are some cons when comparing it to other companies. Such as the requirement of a (3) year contract, activation fee, higher monthly payments, and low rating score.
I think signing a 3-year contract can become problematic if you don't like their service and wanted to cancel prior to the contract terms.
Summary
As you can see from the above-listed features these companies are similar and offer 24/7 emergency medical monitoring. They also offer a fall detection feature as an additional option that will cost an extra monthly fee of about $10.99.
Now, to assist with this decision ask yourself what's more important to you. Is it monthly price, on-the-go-devices, fall detection or 24/7 monitoring.  If you're not home alone at certain times of the day or night then you may not need 24/7 monitoring. If so, this may lower your monthly payments.
Also, if you reside in a rural area you will need a good cellular connection for wireless devices. If you don't, then a landline may be better for you. These are just a few things to consider before signing a contract.
Conclusion
In conclusion, the most important choice is not the company, it's getting the service started for seniors who have health issues and live alone.
And my recommendation for the best two medical alert systems 2019 is Mobile Guardian and LifeStation. Standout features of Mobile Guardian are no long term contracts, free equipment and activation, low monthly payments, 1300 feet base range, free 2nd help button, and highest rating.
Standout features of LifeStation are free equipment and activation, no long term contracts, 30-day money-back guarantee, long battery life and it works with Amazon Alexa.
I want to thank you all for reading this important article and please leave a comment below and subscribe below for more important future topics.
Finally, you may also enjoy reading my article on high blood pressure.
Thanks again,
WMac​